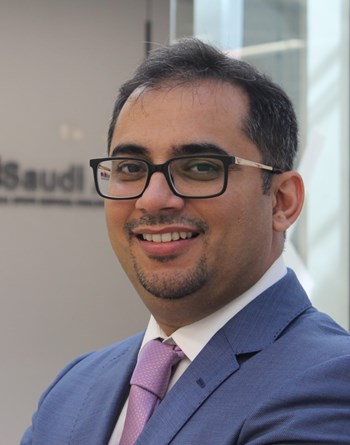 Scope of Service Experience
Investment Sales

Strategic Consulting & Advisory

Capital Markets

Asset Management

Transaction Management

Portfolio Management

Corporate Solutions

Property Management

(Facilities Management)

Commercial Leasing

(All Asset Classes)
Background & Experience
Waleed head the operations for NAI Global in Middle East with its operations in Saudi Arabia & UAE. With over 15 years of experience in regional and global real estate industry, he has been involved with major developments advising key clients in all aspects of real estate services. Together with his team of highly talented consultants, Waleed provides Strategic Advisory & Consultancy, Brokerage, Valuation, Research and Mixed Use Advisory, Property Management & Corporate Solutions to private and institutional investors, developers, financiers, owners and occupiers.
Waleed is adept at giving comprehensive advice on real estate developments, undertaking feasibility studies, highest and best use studies, risk analysis, valuation and transaction management in all asset classes from commercial real estate, infrastructure projects, leisure, entertainment, affordable housing, retail, hospitality, healthcare, education and industrial projects.
Prior to NAI, Waleed headed the Colliers International operations in Pakistan for more than 7 years, he was the first hire, he played a key role in establishing Colliers brand in the region.
Education
MBA (Finance)
BBA (Hons.)
Professional Associations & Designations
SIOR (Society of Industrial & Office Realtor)
ICSC (International Council of Shopping Centers)
MiCP (Master's in Commercial Property)
NAI University (Honorary Certification)
Transaction History
Strategic Advisory
HBU study for land measuring 73,000 sq.m. in Nakheel District, Riyadh, Saudi Arabia.
HBU & feasibility study for land measuring 33,000 sq.m. in Yanbu, Saudi Arabia.
HBU study for redevelopment of retail mall in Riyadh, Saudi Arabia.
HBU & feasibility study for mixed use development in Makkah.
Project Management for 25,000 sq.m. of land in Kudai, Makkah, Saudi Arabia.
HBU & feasibility study for student accommodation in Dubai, UAE.
HBU & feasibility for 3-star, 150 keys hotel in Burjaman, Dubai, UAE.
Advisory role for PPP for mixed use development in Makkah, Saudi Arabia.
Member of land acquisition committee of Asian Development Bank (ADB) for road sector. Headed the team of valuers for valuation of 333 km M-3 Motorway (Faisalabad – Multan section) and 180 km E-35 (Abbottabad Mansehra section).
Headed the team for Etisalat for valuation of their properties across Pakistan under PTCL acquisition.
On the advisory panel of the telecom companies, banks including UBL, MCB, SCB, Ufone, PTCL Warid and local groups like Nishat Group, AKD, Lucky One, Bismillah Group, Sitara Group etc.
Advisor to the National Logistic Corporation (NLC) Pakistan for their KFT project in Karachi.
HBU & Feasibility studies for FDI's including Emaar, Limitless, Damac, MCC Ruba group & Namfatt.
Handling valuation account for Pakistan Railways, the largest land bank in Pakistan.
Investment Sales
Disposal of residential property portfolio of value SAR 45 million in Jeddah, Saudi Arabia.
Acquisition of residential property portfolio of value SAR 23 million in Jeddah, Saudi Arabia.
Disposal of commercial property portfolio of value SAR 140 million to REIT Fund, Saudi Arabia.
Acquisition of office portfolio in USA of value USD 92 million for Saudi Arabian client.
Sales of high-end luxury residential apartments in Paris, France & Cairo, Egypt.
Sales Consultant to the Defence Housing Authority, Islamabad (DHAI) Pakistan, single handed sold property equivalent to USD 32 million for their project over a span of 2 years.
Marketing & sales consultants for ONE Constitution Avenue - Grand Hyatt, Islamabad, Pakistan. Managed to sell 400,000 sq.ft. worth of PKR 5.0 billon in year 2011-13. Actively involved in hotel operator selection and HMA negotiation for Grand Hyatt.
Sale of running Pfizer pharmaceutical manufacturing facility built on 13 acres with constructed area of above 400,000 sq.ft.
Sale of pharmaceutical manufacturing facility owned by sanofi-aventis in Wah (35km from Islamabad). The facility was constructed on 12 acres with constructed area of 450,000 sq. ft.
Acquisition of industrial property for Herbion International with land & built-up area of 300,000 sq.ft.
Acquisition of land and built-up campus for educational institute Comsats, Islamabad.
Commercial Leasing / Property Management
Managing property portfolio of above 25,000 sq.m. of offices, 17,500 sq.m. of residential in Jeddah, & 10,000 sq.m. of office portfolio in Riyadh, Saudi Arabia.
Supervised the commercial leasing transaction (offices, retail & industrial) of above 100,000 sq.m. in Saudi Arabia & Dubai.
Leasing consultant to major retail developers like Dolmen, Nishat, Packages, Centaurus, World Trade Centre, Atrium & Lucky One for their retail developments in Karachi, Lahore & Islamabad.
Leasing Consultant for Carrefour, CSD & retail fashion brands for the expansion plan in Pakistan.
Leasing advisor to major office development including Serena Business Complex, Saudi Pak, UBL Tower, Islamabad Stock Exchange Tower, HBL Tower, MCB Building, Executive Towers etc.
Leasing Consultant to major international & local office occupier like HBL, UBL, Mobilink, Nestle, Coco Cola, Teradata, Unilever, SCB, Namfatt, PTCL, NLC, AWT, Fauji Group and many others.
Over 450,000 sq. yd. of land, 2.0 million sq.ft. of property sold, 500,000 sq. ft. leased in all asset classes (residential, retail, industrial & office)