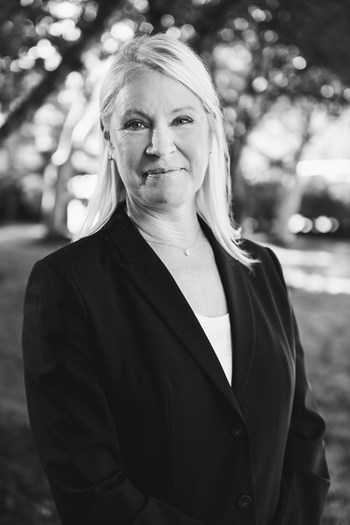 Julie A. Bauch
Managing Director- Property Management
NAI Legacy
4400 W 78th St, Suite 120
Bloomington, Minnesota 55435
United States
M 6128602467
julie@nailegacy.com

License 20076061
Specialties
Commercial Real Estate Management
Scope of Experience
Julie joined NAI Legacy in 2020 bringing with her over 27 years of commercial real estate experience in property management and brokerage. Julie is leading the property management division of NAI Legacy overseeing a fast-growing portfolio of properties that include The Shops at West End (385,000 square foot specialty retail) The Interchange (127,000 square foot office campus) and The Pro-tek Building (113,000 square foot industrial building). Her past leasing and management assignments consist of a broad array of institutional and entrepreneurial property owners including Aetna, Principal Financial, Travelers Insurance, Invesco, Carmichael Lynch, Paster Enterprises, Jonny Pops, Hirschfields, Northwestern Book Stores, Architectural Antiques, R.Harris/Sears Tower and Swervo Development Corporation. Prior to Joining NAI Legacy, Julie work as an Associate Director at CBRE where she managed a retail portfolio of 16 properties totaling approximately 750,000 square feet and managing a team of 19 property managers and staff who oversaw 12.5m square feet of office, retail and industrial. Prior to her role at CBRE Julie served as a Vice President at Griffin Companies where she grew a 36-property portfolio totaling over 1.3 million square feet. Julie began her career at United Properties where she managed a portfolio of over 3 million square feet. Julie holds a Mini-MBA from the College of St. Thomas.
Background & Experience
Experience:
Director of Management - CBRE
Managed a team of 19 property managers, assistant property managers, and their support staff who represent owners of over 12.5 million square feet of office, retail, and industrial space.
Assisted in preparing budgets and contracts; approved payment of invoices for entrepreneurial and institutional owners.
Stabilized retail portfolio consisting of 16 properties, allowing ownership to focus on portfolio growth.
Mentored and repositioned staff and portfolio responsibilities, maximizing proficiency of each team member, creating new opportunities for each individual.
Vice President of Retail - Griffin Companies
Launched the retail division
Grew portfolio from 2 properties to 36, totaling over 2.3 million square feet.
Secured 13 new clients, hired and trained numerous new staff members
Managed annual budget over 1.2 million.
Additional Relevant Experience
Assistant Vice President of Retail: New Business Development Team Leader - United Properties
Team leader of businesses development in the retail division building a portfolio of properties to lease and manage of strip centers, power centers, and enclosed malls.
New division which grew to over 5 million square feet
Education
2020 University of St. Thomas, Minneapolis
Mini MBA, Business Administration and Management
Professional Associations & Designations
St. Paul Chamber of Commerce Executive Round Table; St. Paul Downtown Alliance Jobs and Office committee; St. Paul Chamber of Commerce board member; 4th Street Market Committee; St. Paul Downtown Alliance River Front Corporation; St. Paul Chamber of Commerce PAC board; St. Paul BOMA past board chair.