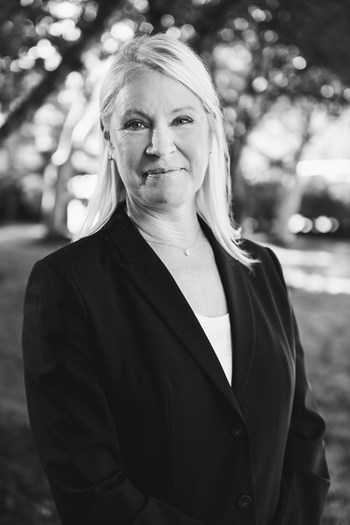 Julie A. Bauch
Managing Director- Property Management
NAI Legacy
3600 American Blvd W, Suite 360
Bloomington, Minnesota 55431
United States
M 6128602467
julie@nailegacy.com

License 20076061
Specialties
Commercial Real Estate Management
Scope of Service Experience
Over twenty years of commercial real estate experience representing entrepreneurs and institutional clients in the sale and purchase of land, office, industrial and retail holdings. Specializing in building management and tenant representation; currently representing Lowertown Bike Shop and Sustainable Safari, a 35,000 square foot indoor educational facility seeking a retail location. Also representing Pink Goat properties fulfillment of a 1031 exchange requirement; Brust Properties development of a 100,000 square foot cold storage facility. Known for closing difficult transactions and maintaining lifelong client relationships.
Managed million square foot, class B office building in St. Paul, increasing occupancy from 37% to 88% in 22 months,
creating value and positioning the asset for sale.
Maintained portfolio tenant retention rate of 97%, stabilizing asset in tumultuous market.
Proficient in:
Market evaluations, and cost analysis.
Construction management.
Staff management.
Budget preparation
Background & Experience
Experience:
Director of Management - CBRE
Managed a team of 19 property managers, assistant property managers, and their support staff who represent owners of over 12.5 million square feet of office, retail, and industrial space.
Assisted in preparing budgets and contracts; approved payment of invoices for entrepreneurial and institutional owners.
Stabilized retail portfolio consisting of 16 properties, allowing ownership to focus on portfolio growth.
Mentored and repositioned staff and portfolio responsibilities, maximizing proficiency of each team member, creating new opportunities for each individual.
Vice President of Retail - Griffin Companies
Launched the retail division
Grew portfolio from 2 properties to 36, totaling over 2.3 million square feet.
Secured 13 new clients, hired and trained numerous new staff members
Managed annual budget over 1.2 million.
Additional Relevant Experience
Assistant Vice President of Retail: New Business Development Team Leader - United Properties
Team leader of businesses development in the retail division building a portfolio of properties to lease and manage of strip centers, power centers, and enclosed malls.
New division which grew to over 5 million square feet
Education
2020 University of St. Thomas, Minneapolis
Mini MBA, Business Administration and Management
Professional Associations & Designations
St. Paul Chamber of Commerce Executive Round Table; St. Paul Downtown Alliance Jobs and Office committee; St. Paul Chamber of Commerce board member; 4th Street Market Committee; St. Paul Downtown Alliance River Front Corporation; St. Paul Chamber of Commerce PAC board; St. Paul BOMA past board chair.