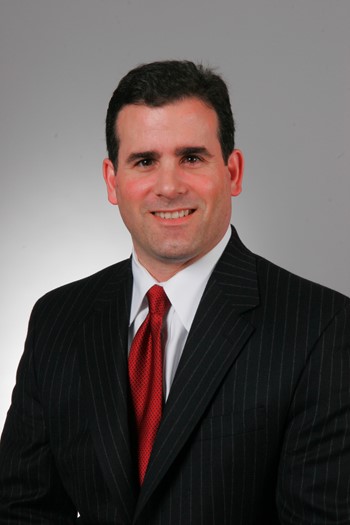 Christopher Galiano, SIOR
Managing Director-Principal
NAI DiLeo-Bram & Co.
90 Woodbridge Center Drive, Suite 160
Woodbridge, New Jersey 07095
United States
T +1 732 985 3009
M 17328878138
cgaliano@naidb.com
Specialties
Industrial, Office
Scope of Experience
Chris has been actively involved in providing Tenant/Buyer and Landlord/Seller representation in the Central Jersey Commercial real estate market since 1988. Throughout his career he has successfully completed assignments for many of New Jersey's largest landlords and developers, completing over 1500 transactions. Chris' extensive local market knowledge and his resolve to uncover all potentials for his clients, has consistently made him a top performer.
Background & Experience
2008 - Present: Managing Director/Principal NAI DiLeo-Bram & Co.
2001 - 2008: Executive Vice President – DiLeo Realty Associates
1988 - 2001: Sr. Vice President -New Jersey Equity Corporation
Education
SIOR Rowan University University of Hawaii New Jersey Real Estate Brokers License
Professional Associations & Designations
NAI Industrial Council NAI New York City Area Industrial Council Co-Leader SIOR - 2014 NJ Chapter President Licensed FAA Private Pilot
Transaction History
Represented the following companies in the past 25 Years in the New Jersey marketplace : AIMS Medical AT&T Metlife General Mills Tyco North American Van Lines United Rentals Foodtown Supermarkets StaffMark DHR Robertet Flavors StellaDoro Volkswagon Lucent Technologies NJ Convention and Exposition Center ProTapes Victory International CD&L Walmart Commerce Bank PODS American Properties First Industrial Realty Trust Edgewood Properties Federal Business Centers Morris Companies Summit Associates Seagis Property Group Kerzner Associates Tulfra Real Estate Frank Greek and Son USLR Restaurant Depot Foodtown LandRover Nixon Uniform AllPorts International Today's Concept WineChateau.com TSG Akropolis Marble ASP Services Sorce Companies Raritan Pharmaceuticals Hanssem Enex R and D Circuits Home Care Services Land Sales: 1 Acre to Commerce Bank- Metuchen, NJ, 2.2 Acres to Berg Store Fixtures- Edison, NJ 2.8 Acres to Suburban Square- Metuchen, NJ 3 Acres to KBI-Edison, NJ 4 Acres to NY Carolina Express-Edison, NJ 4 Acres to Audi- Rt. One Edison NJ 5 Acres to HY Management- Piscataway, NJ 6.5 Acres to Paul Miller Auto- Edison, NJ 6 Acres to Volvo- Edison, NJ 7 Acres to Suburban Development- Metuchen, NJ 15 Acres to Kenworth Trucks- South Brunswick, NJ 27 Acres from Tingley Rubber-South Plainfield, NJ 28 Acres Mixed Use Conversion Site, Edison, NJ Tenant Rep. Lease of The Garden State Exhibition Center- Somerset, NJ Tenant Rep. Lease of Multiple Bldgs. of 230,000 sf to Raritan Pharmaceuticals Tenant Rep. Lease of 270,000 sf to TSG Tenant Rep Lease of 70,000 sf to PODS Tenant Rep. Lease of 130,000 sf to ProTapes Tenant Rep. Lease of 42,000 sf to Enviropak Tenant Rep Lease of 50,000 sf to Hanssem Corp. Tenant Rep. Lease of 50,000 sf to CD& L Tenant Rep. Lease of 20,000 sf to EDG Group Tenant Rep. Lease of 18,500 sf to Wine Chateau Tenant Rep. Lease of 42,000 sf to Allergy Be Gone Tenant Rep. Lease of 76,000 sf to Restaurant Depot Tenant Rep Lease of 89,000 sf to TSG Tenant Rep. Lease of 20,000 sf to Reliable Mail Service Tenant Rep Lease of 5,000 sf to Sara Lee Corp. Tenant Rep. Lease of 40,000 sf to North American Van Lines Tenant Rep Lease of 70,000 sf to Vanguard Tenant Rep. Lease of 6800 sf to TastyCake Tenant Rep. Lease of 19,000 sf to American Medical Corp. Tenant Rep. Lease of 40,000 sf to All Aspects Trucking Corp. Tenant Rep. Lease of 30,000 sf to Flora Foods Tenant Rep. Lease of 19,000 sf to Transaction Publishers Tenant Rep. Lease of 20,000 sf to Fire & Safety Tenant Rep. Lease of 23,000 sf to North American Tenant Rep. Lease of 30,000 sf to Fresh to You Tenant Rep. Lease of 50,000 sf to North East Auto Parts Tenant Reo. Lease of 60,000 sf to ProFit Piping Tenant Rep. Lease of 35,000 sf to All Ports Int'l Tenant Rep. Lease of 70,000 sf to Solomon's Warehousing Tenant Rep. Lease of 60,000 sf to Robertet Flavors Tenant rep. Lease of 144,000 sf to Syncreon USA Tenant Rep. Lease of 100,000 sf to Syncreon USA Buyers Rep Gamka Sales- 53,000 sf Industrial - Edison, NJ Concord Investors- 150,000 sf Flex- Edison, NJ R and D Circuits- 35,000 sf Industrial -South Plainfield, NJ Shanghai Int'l- 24,000 sf Industrial- Metuchen, NJ F and S Tire Goodyear Tire Corp.- 30,000 sf Industrial- Edison, NJ United Rentals- 40,000 sf Industrial-South Plainfield, NJ Edgewood Properties-270,000 sf Industrial - South Plainfield, NJ Federal Business Centers- 30,000 sf Flex - Edison, NJ Pee-Wee Molding- 76,000 sf Flex - Piscataway, NJ CW Int'l- 45,000 sf Industrial- Somerset, NJ One Health Care- 45,000 sf Office Bldg. - Piscataway, NJ Bettaway Transportation- 40,000 sf - South Plainfield, NJ Pierra Elecric- 15,000 sf- Metuchen, NJ United States Land Acquisitions- 25,000 sf- Metuchen, NJ Dimension Stone- 14,000 sf- Metuchen, NJ Rutgers University-50,000 sf -Piscataway NJ HN Int'l-40,000 sf Industrial -Somerset, NJ Seller's Rep- Sale of 100,000 sf Distribution from Millrose Dist.- North Brunswick, NJ Sale of 23,000 sf -from Fromm Electric- Piscataway, NJ Sale of 52,000 sf Flex- from First FDK- Piscataway, NJ Sale of 21,000 sf Office Bldg. from JNJ Enterprises- Piscataway, NJ Sale of 16,200 sf flex from Creative Learning-South Plainfield, NJ Sale of 70,000 sf Flex from Z&J Corp.- Woodbridge, NJ Sale of 43,000 sf Industrial from Plastic Color Chip- Somerset, NJ Sale of 74,000 sf Office to Access Money-Piscataway, NJ Lease of 270,000 sf Industrial from Sudler Companies - Piscataway, NJ Lease of 270,000 sf Industrial from Federal Business Centers- Edison, NJ Lease of 154,000 sf from Seagis Property- Edison, NJ Lease of 40,000 sf of Medical Space to Davita, SarahCare, Interim Heathcare, Durham Dental, and Various Medical Groups - South Plainfield, NJ Sublet of 89,300 sf Industrial to Apex Apparel Edison Industrial and Office/Retail/Special Bldgs. Sales and Leasing- New Jersey