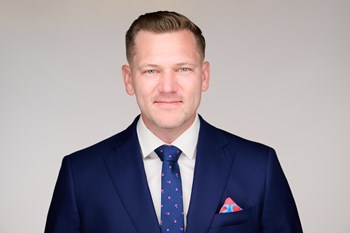 Specialties
Industrial & Office
Scope of Service Experience
With a real estate career spanning almost two decades, Erik Sexton is a top-producing fixture in the Las Vegas commercial real estate community. He specializes in both industrial and office spaces. Having started his real estate career while attending UNLV, and a full-time Las Vegas resident for more than 15 years, Sexton has a deep appreciation for the City of Lights and enjoys sharing that passion with others.
During his impressive career, Sexton has represented a wealth of local and international companies including Genesis Gaming, SME Steel, Ice Now, High Impact Signs, Next Century Rebar, JAMO Performance Exhaust, Chicago Exhibit Productions, Coca Cola, 99 Cent Stores, and more.
A self-proclaimed part-time adventurer, you'll often find Sexton attending a Vegas Golden Knights game, rock climbing, snowboarding, enjoying his motorcycle, or spending time with his faithful dog, Ruger.
You can keep in touch with Sexton and all things #LasVegas and #CRE on his social media platforms (Twitter, Facebook, Instagram, and LinkedIn) and on his blog: www.vivacre.com.
Background & Experience
Prior to joining NAI Vegas, Mr. Sexton was with Sperry Van Ness from 2012 to 2017 as an Executive Vice President specializing in industrial properties, and Brownstone Commercial Real Estate from 2004-2012. Prior to commencing his real estate career, Mr. Sexton interned for the development team of Sunrise Senior Living retirement homes in Munich and Frankfurt, Germany. Sunrise Senior Living subsequently grew to be one of the largest retirement home system in the world. Enjoys Rock climbing, motorcycles and snowboarding.
Education
BA in German from the University of Nevada Las Vegas
Professional Associations & Designations
Boy Scouts of America
Transaction History
Sold: 8876 Spanish Ridge Ave. - Office Building - 35,663+/-SF 6787 W Tropicana Ave. - Office Building - 34,560+/-SF 2851 N Tenaya - Medical Building - 30,000+/-SF 1171 Whitney Mesa - Office Building - 25,248+/-SF 2133 Industrial Rd - Industrial Office Building - 8,000+/-SF 6235 S Pecos Rd - Industrial Office Building - 19,976+/- SF 8715 Linell Rd - Industrial Building - 5,892+/-SF Lease: High Impact Signs, LLC - 53,760+/-SF Industrial Space Egan Escape Productions - 30,000+/-SF Creative Industrial TruFusion Corporate Offices 12,500+/-SF Office Western Linen Services Inc 65,000+/-SF Industrial