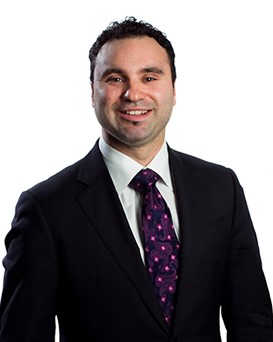 Background & Experience
Vincenzo Caputo' began his professional career in 2008 with NAI Commercial Real Estate after completing his Master's in Business Administration (MBA) at the University of Alberta. In 2014, he became a partner of NAI and has emerged as one of the markets more active agents by brokering an impressive variety of Commercial Sales & Leasing transactions placing him in NAI's Top 10 Brokers Rankings Canada wide. His extensive market knowledge' creative insight' negotiation skills and hardworking approach has allowed him to build long lasting and trust worthy relationships with his clients. In addition to providing transactional expertise for many regional, national and international clients, Vincenzo has earned a reputation for being able to offer strategic project consulting and customized marketing plans to developers. Adding tremendous project development expertise and market penetration when engaged as their exclusive listing agent. His analytical capabilities permit him to capitalize on sales/leasing opportunities' structure creative deals and maximize returns for the various property owners/landlords he represents.
Education
Masters in Business Administration (MBA), University of Alberta Bachelor of Physical Education (BPE), University of Alberta
Professional Associations & Designations
Member of AREA, CREA, EREB Commercial Division and RECA.
Transaction History
Seller or Landlord Representation: DMC Building - 24,655 sq.ft. (Sale) Easy Rock Canada Bldg - 25'000 sq.ft. (Sale) Easy Rock Canada Bldg (Denver, Col) - 21'000 sq.ft. (Sale) Acklands Grangier Bldg 14'000 sq.ft. (Sale) Bavaria Professional Building 15'000 sq.ft. (Sale) 3CInfromation Solutions Building - 10'000 sq.ft. (Sale) Industrial Investment Acquisition - 16'000 sq.ft. (Sale) Nisku Land – 4 Acres (Sale) Twisted Pair Inc. - 18,666 sq. ft. (Lease) Alberta Overhead Crane – 12,500 sq.ft (Sale) Buyer or Tenant Representation: RuhRPumpen Bldg - 11'566 on 4 Acres (Lease) United Protection Services Bldg - 16'178 sq.ft. (Lease w/ purchase option) Industrial Investment Acquisition - 8'800 sq.ft. (Lease) Adecco Employment Services – 9,000 sq.ft. (Lease) Royal Caretaking Supplies Building - 15'000 sq.ft. (Sale)