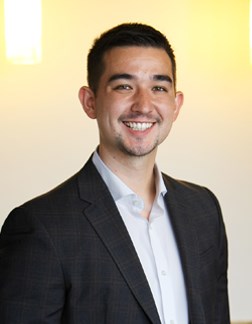 Talor Okada
Associate Vice President
NAI Puget Sound Properties
600 108th Avenue NE Suite 340
Bellevue, Washington 98004
United States
T +1 425 586 5605
M 14254925145
tokada@nai-psp.com
Specialties
Industrial
Background & Experience
Talor is an industrial and office real estate professional with a focus on the leasing/sales of properties in south Snohomish and north King Counties. Specifically he focuses on the areas ranging from Lynnwood to Arlington in the northend, and Bothell to Bellevue on the eastside. Whether the company is local or national, Talor assists businesses in finding and securing space that best suits their requirements while obtaining the best market concessions. He works closely with landlords on the leasing of their available space with proven marketing strategies and a direct prospecting program that helps reach all Tenants in the market. With Talor you can count on effective communication, superior market knowledge, and the highest level of service and integrity.
In the last four years, Talor has assisted his clients in completing over 100 transactions totaling over $100 million in transaction value. Past the transaction, he encourages his clients to reach out for support and advisory through their tenancy/ownership.
Prior to joining NAI Puget Sound Properties, Talor was fortunate to gain experience in Division I baseball at Seattle University where he graduated from the Albers School of Business in marketing. Talor brings fresh marketing skills and a solid background in business with him for the benefit of current and future clients.
Education
Bachelor of Arts, Marketing - Seattle University, Albers School of Business & Economics
Professional Associations & Designations
CBA - Commercial Brokers Association
WSCAR - Washington State Commercial Association of Realtors
NWBRT - Northwest Business Round Table
Transaction History
Recent Sale Transactions
$12,550,000 150,046 SF (Everett)
$6,931,427 42,700 SF (Woodinville)
$6,180,000 41,020 SF (Monroe)
$5,900,000 30,912 SF (Mukilteo)
$3,800,000 24,000 SF (Monroe)
$3,700,000 11,812 SF (Lynnwood)
$3,500,000 16,548 SF (Marysville)
$3,100,000 6.7 acres (Mill Creek)
$3,000,000 3 acres (Everett)
$2,861,800 15 acres (Arlington)
$2,500,000 63 acres (Arlington)
$2,369,000 11,050 SF (Woodinville)
$2,050,000 4,320 SF (Woodinville)
$1,900,000 3,744 SF / 1.10 acres (Woodinville)
$1,814,246 6 acres (Arlington)
$1,810,000 17,100 SF (Monroe)
$1,790,633 8,757 SF (Everett)
$1,760,000 2.32 acres (Lynnwood)
$1,600,000 6 acres (Arlington)
$1,600,000 18,512 SF (Marysville)
$1,526,918 4.5 acres (Mukilteo)
$1,300,000 5 acres (Monroe)
$1,265,000 3,897 SF (Woodinville)
$1,200,000 7,791 SF (Mt Vernon)
$1,200,000 3,000 SF (Mukilteo)
$950,000 1.41 acres (Woodinville)
$923,500 3,250 SF (Millcreek)
$850,000 17,000 SF (Marysville)
$775,000 4,337 SF (Everett)
$750,000 3 acres (Mukilteo)
$590,000 17,600 SF (Seattle)
$520,000 962 SF (Kirkland)
$195,000 5 acres (Arlington)
Recent Lease Transactions
59,079 SF $2,781,361 (Woodinville)
58,000 SF (Yard) $757,756 (Woodinville)
41,438 SF $4,813,677 (Woodinville)
35,300 SF $2,516,079 (Woodinville)
28,503 SF $2,008,450 (Everett)
27,280 SF $1,592,740 (Everett)
27,280 SF $1,274,184 (Everett)
27,125 SF $1,342,584 (Woodinville)
26,320 SF $2,665,971 (Woodinville)
24,036 SF $1,656,252 (Woodinville)
24,000 SF $1,115,176 (Everett)
20,310 SF $2,529,859 (Woodinville)
19,306 SF $1,056,933 (Woodinville)
16,416 SF $974,448 (Lynnwood)
15,987 SF $438,798 (Woodinville)
15,420 SF $2,104,180 (Everett)
13,900 SF $749,578 (Woodinville)
13,800 SF $406,144 (Woodinville)
13,160 SF $631,958 (Woodinville)
11,766 SF $556,238 (Lynnwood)
11,489 SF $262,800 (Woodinville)
10,570 SF $1,280,943 (Everett)
9,020 SF $305,720 (Everett)
8,168 SF $285,308 (Everett)
7,468 SF $240,252 (Sultan)
6,750 SF $779,589 (Woodinville)
6,490 SF $162,000 (Snohomish)
6,395 SF $206,203 (Bellevue)
5,400 SF $218,916 (Bellevue)
5,157 SF $282,060 (Bothell)
5,035 SF $223,27 (Lynnwood)
4,750 SF $257,227 (Woodinville)
4,100 SF $208,971 (Mukilteo)
4,000 SF & 3 acres $1,513,664 (Everett)
4,000 SF $243,912 (Mukilteo)
3,870 SF $225,182 (Everett)
3,832 SF $254,289 (Maltby)
3,250 SF $215,996 (Redmond)
3,036 SF $165,657 (Everett)
2,109 SF $235,152 (Seattle)
1,575 SF $209,052 (Kenmore)
1,342 SF $624,720 (Seattle)
1,278 SF $856,822 (Bellevue)
Strategic Clients
American Income Life Insurance
Amicable Health
Arcane Comics
Architextures
Asplundh Tree Expert
Bark King Blower Truck Services
BASE By Pro's
Brimstone Fire Safety Management
Clearcreek Contractors
Cornerstone Prosthetics & Orthotics
CREO Industrial Arts
Danika Plumbing
Dantrawl
DWH Investments, LLC
Enterprise Holdings (Enterprise Rent-a-Car)
Evergreen Recovery Centers
Fasco, Inc.
Finish Line Heating & Cooling, LLC
Fishermen's Finest
Griffin Custom Builders
Hour Loop, Inc.
Integrity Machining
Jackson Hewitt
JBD Excavation
Lake Washington Foot and Ankle Clinic
Mac's Upholstery
MasTec North America, Inc
Mazzerella I, LLC
Northwest Partitions
Pacific Watercraft Group (SOLO Watersports)
Panattoni Development
Perine Danforth
PHG Solutions
Prime Flooring
Rainier Pacific Properties
Reliable Security
Rocket Intel, Inc.
Signature Landscape Services
SKN Works, LLC
Snohomish County PUD
South Everett Investments
Stoneway Electric
The Armory
Total Landscape Corporation
Underwood Nelson Development
Venetian Stone Works
Washington Federal
About Powder Coating
Elite Educational Institute
Seattle Pump and Equipment
Great Little Box Company
TEC Equipment
Omnitec Design
Omega Morgan
Five Star Granite