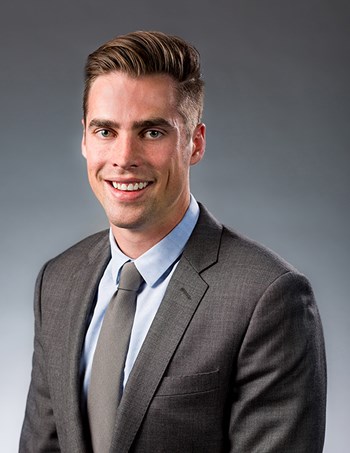 Riley McKee
Industrial Property Senior Advisor
NAI SunVista
6801 Jefferson Road NE Suite 200
Albuquerque, New Mexico 87109
United States
T 505 998 1656
M 505 379 1549
riley@gotspaceusa.com
Specialties
Industrial
Background & Experience
Riley joined the Land & Industrial Team at NAI SunVista (formerly NAI Maestas & Ward) in July of 2016 after a brief stint in project management at a home healthcare company. He earned a Bachelor of Science degree in finance from Azusa Pacific University in 2014 where he captained the track and field team and served on the NCAA Student Athlete Advisory Committee (SAAC).
He specializes as an end-to-end consultant on industrial and logistics real estate, providing expert guidance to his list of clients which includes Sombra Cosmetics, The Good Samaritan Society, Kemper Personal Insurance, Joy Junction, Junk King, French Funerals & Cremations, Univar Solutions, Masek Golf Cars, Terminix, MW+C, Bath Fitter, US Med Equip, Ritchie Bros. Auctioneers, Watco Supply Chain Services, Bio Trans, Johnson United Storage & Moving, Southwest Block, and Western Refining among others.
Education
B.S., Finance, Azusa Pacific University, a private university in Southern California.
Professional Associations & Designations
Commercial Association of Realtors (CARNM)
• Leasing Information Network (LIN) Chair: 2021
• Leasing Information Network (LIN) Vice Chair: 2020
Toastmasters International
• Coronado Toastmasters President: 2019
Transaction History
CARNM Deal of the Year Over $1,000,000: 2020
CARNM Deal of the Year Over $1,000,000: 2019
CARNM Deal of the Year Under $1,000,000: 2018
Published Article: "Broad rent strikes would be disastrous for recovery" in The Albuquerque Journal, published April 27, 2020
Published Article: "New Mexico is primed for industrial development"
in Western Real Estate Business, published May 2020
NAI Maestas & Ward Carbon Award, 2017
Strategic Clients
Cactus Transport
Johnson United Moving & Storage (United Van Lines)
Southwest Block
Sunstate Equipment
BioTrans
Andeavor (Western Refining)