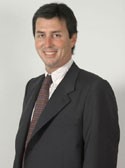 Specialties
Office
Scope of Service Experience
Ricardo developed his Real Estate career working with Castro Cranwell & Weiss since the year 2000, specializing in commercial properties. His expertise has progressed greatly over the last few years and is now attending everl larger portfolios of significant national and international clients.
Background & Experience
Before working with CC&W, Ricardo worked as tobacco re-seller for a Multinational Company, frequently traveling to the United States.
In the Real Estate market, he has successfully completed several training courses offered by the Argentine Real Estate Chamber and the SOM. He speaks English fluently.
Professional Associations & Designations
The main clients with which he has worked are: Unilever Best Foods; Groupe Pernod Ricard; ING Group; Mediterranean Shipping Container; DLJ; SAP; CSFB; Lexis Nexis; Benfiled Group; Hewitt Associates; Edding Group; Merck Chemistry; Rheem; Bloomberg; Accenture; Telecom Italy; Cablevision; Fujitec; Merisant; Southern Winds; among others.