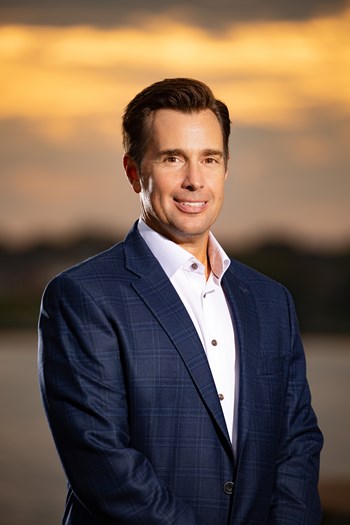 Specialties
Industrial, Office, Multi Family, Investment,
Scope of Service Experience
Patrick L. Reynolds is President of NAI Dominion, a privately-held commercial real estate firm headquartered in Hampton Roads, Virginia and offices in Richmond, Virginia, and with a global network of more than 7,000 professionals across 55 countries. Our firm serves tenants, landlords and investors in virtually every industry; and our brokers are top producers. We are committed to being a leading provider of commercial real estate services in Hampton Roads – Richmond markets and beyond. Our partnership with NAI Global, the largest network of independent commercial real estate firms worldwide, allows us to serve your needs across the globe. Working cooperatively, NAI offices complete over $20 billion in combined transactions annually and manage 425 million square feet of commercial space. Our clients range from Fortune 500 companies, banks and investors to private institutions and small businesses.
Background & Experience
Patrick began his career in real estate with Graham Gund Architects and Gunwyn Development Company 1990 in Boston, MA. After graduating from college with a Bachelor of Science and concentration in Architecture, Patrick followed his dream of flying and honorable served as a Lieutenant Commander and Aviator in the U.S. Navy until 2002, when he started Ashby Development, a commercial, industrial, and multi-family real estate development company. Working closely with investors and clients Patrick expanded his practices in real estate with starting Ashby Real Estate Group, a full-service real estate brokerage company, to assist both tenants, landlords, and investors in all aspects of real estate transactions, and in 2016 joined forces with NAI Eagle in Richmond, Virginia to expand the NAI Global platform to the Hampton Roads Market. In 2017, Patrick and his partner Chris Rice acquired the NAI Global affiliation for the Richmond and Hampton Roads markets and operate under the new NAI Dominion brand. He maintains the most prestigious professional designation in the commercial real estate industry, "CCIM" (Certified Commercial Investment Member). Holds the National Association of Home Builders designation of Registered in Apartment Management (RAM), for his exceptional work in the development and management in the apartment industry, and finishing his requirements of the Institute of Real Estate Management (IREM) Certified Property Manager (CPM) Designation. Recognized in 2009, by Inside Business as one of Hampton Roads "Top Forty under 40" in the business community.
Education
Northeastern University, Boston, MA – Navy ROTC Scholarship – MS Art/Architecture CCIM Institute (Certified Commercial Investment Member) Masters in Commercial Properties (MICP) Registered in Apartment Management (RAM)
Professional Associations & Designations
-Chesapeake Economic Development Authority – Vice Chairman -Hampton Roads Chamber of Commerce – Chesapeake Division – Chairman 2012 and 2013 -Townebank Board of Directors – Chesapeake Division – Vice-Chairman & Executive Committee Member -Chesapeake Regional Health Foundation – Chairman -Tidewater Builders Association – Vice President & Executive Board Member -Hampton Roads Association of Commercial Real Estate (HRACRE) – Board Member -Chesapeake Rotary Club – Member & past Board Member -Southeast Virginia Community Foundation – Board Member -CCIM Institute – Member -Institute for Real Estate Management – Member -International Council of Shopping Center (ICSC) – Member -Hampton Roads Realtor Association – Member