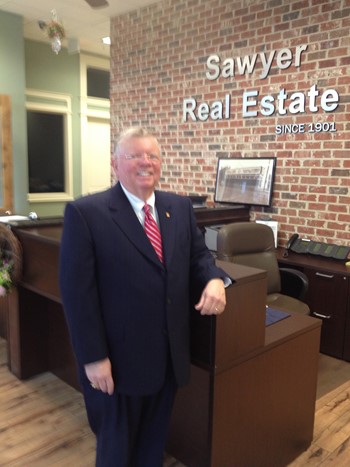 Background & Experience
Biographical Data
LENWOOD S. SAWYER, JR.
Professional
Actively engaged in real estate since 1963, Lenwood S. Sawyer, Jr. has been a commercial real estate broker for over forty seven years and has been responsible for much of the commercial development on the Mississippi Gulf Coast. The company that he now owns, Sawyer Real Estate, Inc. has been serving the Mississippi Gulf Coast since 1901.
Commercial transactions negotiated include the development of the Highway 49/ I10 corridor which included Sam's Wholesale Club, Wal-Mart, Deposit Guaranty Bank, as well as several car dealerships, several hotels and restaurants in the area. Lenny has also done development work for K-Mart in several states. Under Lenny's leadership, Sawyer Real Estate has been employed by RTC, Freddie Mac, F.D.I.C., Hancock Bank, People's Bank, and several other banking institutions to handle their commercial properties for sale.
Since passage of legalized gaming in Mississippi, Lenny has handled over fifteen gaming sites in Mississippi. He has worked with site acquisition in Colorado, Missouri and Nevada. Lenny also served as Director of Real Estate Gaming Acquisition for Stations Casino, Inc. of Las Vegas, NV and has a continuing relationship with this highly successful gaming company. His expertise includes land acquisition, site development and financing options.
Lenny was a member and President of the Mississippi Real Estate Commission for over sixteen years. He is a member of the Gulf Coast Association of Realtors, Mississippi Association of Realtors, Mississippi Association of Commercial Realtors, and the National Association of Realtors.
Community
Lenny was a member and has served as president of the Mississippi State Port Authority. He has been a member of the Port Authority for the past fifteen years. He is also a member of the Gulf Coast Business Council, Gulfport Rotary Club (past president and Paul Harris Fellow), the Gulfport Yacht Club, the Pass Christian Yacht Club, Great Southern Club, and many other organizations.
A highlight of Lenny's career was to be inducted into the Hall of Fame at Perkinston Junior College.
Lenny has been an active member of the Episcopal Church for the past forty-five years and currently attends St. Patrick's Episcopal Church in Long Beach, MS.
Family
Lenny has been married to Earline Croncich Sawyer for over forty-six years. They have a daughter, Sandi Sawyer Dulaney married to Tim Dulaney and a son, Lenwood S. Sawyer, III. married to Heather Sawyer. They have also been blessed with seven grandsons, Mac, Jackson, Anderson, Luke, Nick, Stokley and Henry who are the light of his life.