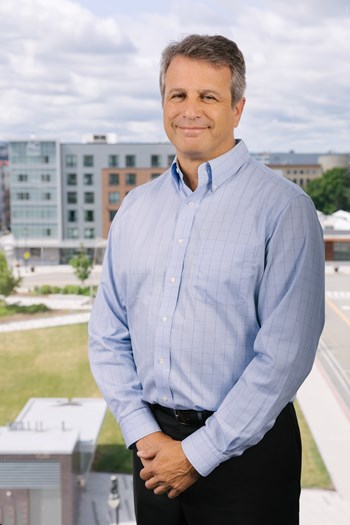 Specialties
Industrial, Investment
Scope of Service Experience
Responsible for business development and strategic direction of the companies owned by the Glickman Kovago & Jacobs partnership.
Background & Experience
James Glickman is a principal and founder of NAI Glickman Kovago & Jacobs. He has been in the real estate business since 1986. He has assisted his clients with a wide array of commercial/industrial projects from leasing and selling properties, to site selection, to long term strategic planning for asset maximization on several multi-million dollar developments. James Glickman is a Certified Property Manager (CPM) and has been involved in the management and development and construction of many large commercial, industrial and retail properties. He has been one of the top producing real estate brokers in the Central Massachusetts area for many years. James currently serves on the Board of Directors for the Worcester State University Foundation Board.
Professional Associations & Designations
CPM- Certified Property Manager, Realtor
Transaction History
Recent Transcations 100 Meadow Road, Boston, MA- 115,000 sf lease 301 Barber Ave, Worcester, MA- 103,000 sf sale 28 Bowditch Drive, Shrewsbury, MA- 41,000 sf lease 28 Millbury Street, Auburn, MA- 75,000 sf lease 29 Gilmore Drive, Sutton, MA- 40,000 sf lease 267 Southbridge Road, Charlton MA- 105,000 sf sale 267 Southbridge Road, Charlton, MA- 50,000 sf lease 4 Saint Mark Street, Auburn, MA- 38,000 sf sale 4 Saint Mark Street, Auburn, MA- 28,000 sf lease 9 Saint Mark Street, Auburn, MA- 23,000 sf lease 9 Saint Mark Street, Auburn, MA- 23,000 sf sale 301 Barber Ave Worcester, MA- 103,000 sf sale 36 Town Forest Road, Oxford, MA- 48,000 sf sale 1 Hawsley Road, Oxford MA- 18,000 sf sale 910 Boston Turnpike, Shrewsbury, MA- 25,000 sf sale 215 Shrewbsury Street, West Boylston- 21,000 sf lease 30 Boylston Street, Worcester, MA- 30,000 sf lease