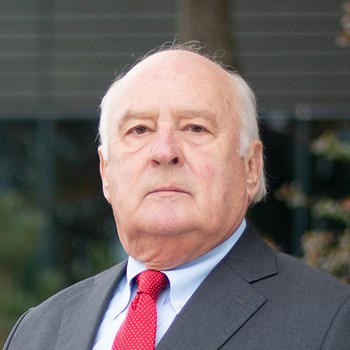 Specialties
Investment, Retail
Scope of Service Experience
Dennis J. Hiffman has been involved in Real Estate Brokerage for over 40 years. During that 40 year period he has been a general partner in the development and/or acquisition of 1.25 million square feet of office buildings, including the Old Orchard Plaza in Skokie, Illinois; the Garretson & Santora Building in Sioux Falls, South Dakota; the Midwest Office Center and One Oakbrook Terrace in Oakbrook Terrace, Illinois; 180 N. Wacker Drive in Chicago; and some 2.5 million square feet of retail shopping centers, including Orland Park Place, Orland Park; Broadview Village Square, Broadview; Broadway Center in Chicago, Oak Brook Promenade, Oak Brook, and Main Street Village, Orland Park, and 12 million square feet of industrial space throughout the United States.
Background & Experience
From 1972 until 1977, Mr. Hiffman was at Hawthorn Realty Group where he developed new industrial properties and sold or leased existing properties for numerous major public corporations, including Zenith, Rheem, Jewel Tea, Motorola, Arvin Industries, Volkswagon of America, and Commonwealth Edison. In 1977, Mr. Hiffman formed MRX/Midwest Realty Exchange, Inc. At MRX, Mr. Hiffman completed the development and sale of the 30-acre Highland Oaks Office Park in Downers Grove, Illinois, to Rauenhorst Corporation/OPUS. The park contains over one million square feet of space and boasts such tenants as Continental Can, The Federal Home Loan Bank, Hewlett Packard, Control Data, ITOFCA, Aetna and Lincoln National Life Insurance Companies. MRX was later sold to Grubb & Ellis and became the basis for their Chicago office. In December 1981, Mr. Hiffman founded HSA to serve the needs of corporate real estate. In this capacity, Mr. Hiffman secured exclusive representation of OPUS in its Kensington Center, a 300-acre deluxe office/research/industrial park located in Mount Prospect, Illinois. Over the next 18 years HSA grew to be the largest independently owned commercial real estate firm in Chicago. In 1999, Mr. Hiffman became Chairman of NAI Hiffman, which was formerly the Brokerage Division of HSA. In 2001, NAI Hiffman merged with Scribcor Real Estate Services, a 110 year old management and brokerage services company. This brought in accounts such as: The Wrigley Company; St. Paul Travelers; UBS Brinson; and the MacArthur Foundation. The firm currently manages over 55 million square feet of space and has been named the #1 Property Management Firm in Chicago for 2009 and 2010. NAI Hiffman has over 200 brokers and employees located at their headquarters in Oakbrook Terrace.
Education
Loyola University BS, BA
Professional Associations & Designations
Real Estate Broker - Illinois Fenwick High School, Life Trustee Roosevelt University, Past Member – Advisory Board College of Business Administration NAI Global: Member, Leadership Board; Former Chairman Will County, IL Economic Development, Member - Strategic Policy Council Greater Oak Brook Chamber of Commerce, Member – Board of Directors Greater Oak Brook Chamber of Commerce, Member – Economic Development Committee Awards & Recognition: CRAIN'S Who's Who in Chicago Business (2008-2018) Midwest Real Estate News – Commercial Real Estate Hall of Fame