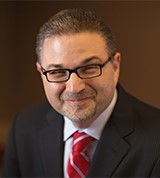 Scope of Service Experience
Andrew (Andy) L. Gutman, President of Farbman Group and related companies, oversees the myriad of Farbman companies, its > 25,000,000 rsf of commercial real estate and its 200 + employees. Andy worked for much of his career in the arenas of Accounting, Finance and Asset Management and previously held the title of Chief Financial Officer. He has spent over 27 years of commercial real estate working for international and family owned, multi- generational commercial real estate companies.
Background & Experience
Andy has financed and overseen assets in excess of billions of dollars and has been an active part of the structuring of the ownership and financing of these assets. With a focus on client service, customer satisfaction and maximizing asset value, he derives pleasure from problem solving and finding opportunities that provide appreciated value, additional revenue and cost savings for the organization and its client. Andy Gutman cares about people, processes, community and is committed to the corporate vision of operating with ethics and integrity.
Education
Michigan State University, B.A. Accounting
Professional Associations & Designations
A strong proponent of, and participant in, community activities, Mr. Gutman served for over a decade as an advisor for BBYO, Inc. working with hundreds of youth group teenagers and now serves on the Board of Directors of BBYO International. He previously served as Vice Chairman of the Planning Commission and was Chairman of the Master Plan and Zoning Committee for the City of Novi. Andy served on the Michigan Chamber of Commerce Tax Committee, the Detroit Workforce Development Board, and served as Chairman of the Building Owners and Managers Association (BOMA) Owners Advisory Council. He currently serves on the Midtown Detroit, Inc.'s Board of Directors, Detroit Chinese Business Association's Board of Directors, Chaldean American Chamber of Commerce's Board of Directors and Executive Committee, the Chaldean Community Foundation's Executive Committee and a member of EO Detroit.
He has received the Crain's Detroit Business CFO of the Year Award, Building Owners and Managers Association (BOMA Detroit) President's Award, the American Business Award's Financial Executive of the Year Award and Maverick of the Year Award, an inductee in the Midwest Real Estate News Commercial Real Estate Hall of Fame, he has been named multiple times to the Detroit 500, a list of the 500 Most Powerful Business people in Detroit, and has received BBYO's Distinguished Alumni of the Year Award.
Under his leadership, Farbman Group and its companies and properties have received awards and accolades including Crain's Cool Places to Work in Michigan, National Best and Brightest Companies to Work For (for the past decade +), National Best and Brightest in Wellness, When Work Works (Sloan) Award for over a decade in row, a litany of American Business Awards in numerous categories, Corp.! magazine's Economic Bright Spot and numerous TOBY Awards presented by BOMA for The Office Building of the Year.