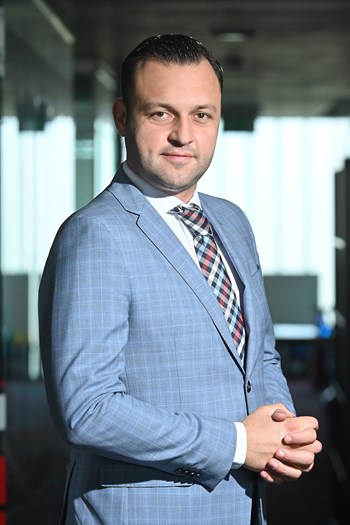 Scope of Service Experience
Andrei Botis MRICS, Managing Partner of NAI Romania is responsible for the development of NAI in Romania and Moldova. Andrei has been involved in land, residential and commercial investment real estate in Romania since 2005.
Background & Experience
2012 - Present - Managing Partner of NAI Romania.
2013 - 2016 - Vice President of ROGBC (Romanian Green Building Council)
2010-2012 - General Manager at Appraisal & Valuation
2005-2010 - Consultant at NAI Romania.
Responsible for corporate clients. Advised buyers and sellers in respect of commercial/residential/land properties. Developed and maintained client relationships. Prepared Requests for Proposals (RFPs) and reviewed RFP responses. Identified new clients and/or local authorities to win property listings. Responsible for securing both sales and acquisition instructions and developing long term client relationships. Disposal and acquisition of commercial real estate.
2007-2008 Odessa Investments Romania.
Responsible for the acquisition process of 5.000,000 sq feet of sites around Bucharest. Identified viable real estate opportunities. Responsible for achieving development and investment objectives. Led the development acquisition team. Conducted due diligence checks on the legal, regulatory, environmental and planning aspects of short- listed properties.? Researched and prepared appropriate investment strategies for proposed or existing investments.
Education
MBA - University of Wales, UK. (pending) Marketing and International Affairs Faculty (Bucharest) Dragos Voda Highschool, Sighetu Marmatiei, Maramures
Professional Associations & Designations
Member of Royal Institution of Chartered Surveyors
The Royal Institution of Chartered Surveyors was founded in 1868. RICS is a professional body promoting and enforcing the highest international standards in the valuation, management and development of land, real estate, construction and infrastructure across the world.
Member of ANEVAR - The National Association of Romanian Authorized Valuers
ANEVAR is a professional not-for-profit organization established to organise, coordinate and authorise the valuer's profession in Romania.Is ensuring the professional independence of authorised valuers in compliance with the professional ethics, promotes the valuation standards, methods and techniques in accordance with the best world practices. ANEVAR was established in 1992 and regulated as public utility institution in 2011 by the Government Ordinance No. 24/2011.
Member of ROGBC
Is a non-profit, non-political association of businesses and other organizations active throughout the country. Is the leading organization promoting environmental responsibility and energy efficiency in the Design, Construction, Operation, and Deconstruction of Romania's buildings
Transaction History
Acquisitions and Disposals totalizing more than 1.000.000 sq feet.
Land Banking Acquisition of more then10.000.000 sq feet..