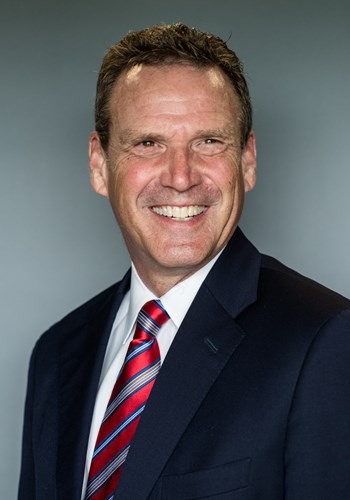 Robbie Perkins, CCIM, SIOR
Shareholder & Market President
NAI Piedmont Triad
348 N. Elm Street
Greensboro, North Carolina 27401
United States
T 336.358.3219
M 336.337.0059
rperkins@naipt.com

License 55007
Specialties
Land, Marketing, Retail, Landlord Representation, Tenant Representation
Scope of Experience
Buyer and Tenant Representation, Land, Office, Site Selection, Industrial Sales and Leasing, Income Property Sales, Consulting
Background & Experience
Robbie has been in the commercial brokerage business since graduating with a BA and MBA from Duke University in 1979. He currently serves as Market President for NAI Piedmont Triad. He has consistently been among the leaders in brokerage volume within the NAI Earle Furman organization. Mr. Perkins has also been a part of Greensboro community leadership since 1993, servicing 16 years on the Greensboro City Council and as Mayor of Greensboro from 2011-2013. Transportation planning, regional cooperation and major community investments such as the Greensboro Aquatic Center and the Steven Tanger Center for Performing Arts were part of his focus as an elected official. Since leaving office, Mr. Perkins has served as President of Triad Real Estate and Builders Coalition (TREBIC) and is currently Vice-Chair of the Economic Development Committee of the North Carolina Association of Realtors.
Education
Duke University - BA, 1977 Duke University - MBA, 1979 CCIM Designation, National Association of Realtors -1986
Professional Associations & Designations
SIOR Designation- 2019 CCIM Designation - 1986 President - North Carolina CCIM Chapter - 1994 Greensboro Board of Realtors - 1979 to present C & I Division President - 1987 Board of Directors - N.C. League of Municipalities -1999-2001 Board of Directors - One Step Further - 1999 to 2011 Moderator for 2002, 2004 , 2005 and 2006, 2009, 2010 and 2014 Triad CCIM Market Forecast Board of Directors, FNB Southeast - January 2005 to 2007 Board of Directors, NewBridge Bank- 2007 to 2012 Co-Chairman-Heart of the Triad Steering Committee - 2005-2007 Board of Trustees, Bennett College - 2006-2013 Greensboro Chamber of Commerce Regionalism Committee - 2006-2008 Chairperson, Greensboro Metropolitan Planning Committee 2008-2013 Executive Committee, NC Metro Mayors Coalition 2012-2013 PART Board of Trustees 2007-2013 Vice Chairman, TREBIC(Triad Real Estate Building Industry Council), 2014 Chairman, TREBIC- 2015, 2016 Guilford County Workforce Development Board, 2014- present High Point University Board of Visitors 2015-present High Point Partners Board 2013-2015 High Point Business Member 2016
Transaction History
Leased 20,000 HQ space for Bernard Robinson & Company. Apartment investment sales in excess of $100 million.
Represented Landowner on sale of 337 acre tract to Publix for a 2 million sf distribution center.
Strategic Clients
Lincoln Financial; The Carroll Companies; Bernard Robinson & Company, LLP; Blue Ridge Companies; East Wind Development, Diamondback Acquisition Company; Triad Business Bank