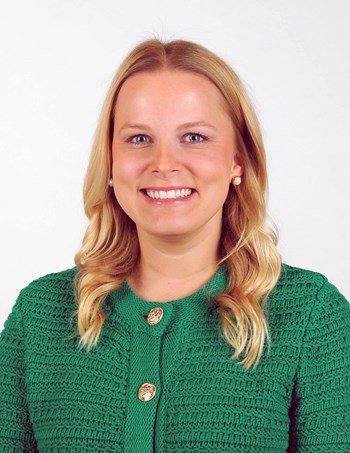 Scope of Service Experience
Maddie joined NAI NP Dodge in 2018 and provides a full range of commercial sales and leasing services. Her notable clients include DevMar Partners LLC, El Jamal Properties LLC, Wassco LLC, and Aras Capital Company. Her experience working with small business clients and large corporations alike allows her to provide in-depth market knowledge to every transaction.
Prior to joining NAI NP Dodge, Maddie worked as a mortgage servicing intern for West Gate Bank and as a transaction administrator for the TitleCore National. Experience in both industries provides a strong foundation for her commercial real estate practice.
Maddie is an active member of Commercial Real Estate Women (CREW) and ICSC. She strives to be an advocate for her clients and offers professional commercial real estate guidance in every transaction.
Education
Bachelor of Science in Business Administration degree from the University of Nebraska-Lincoln's College of Business Administration.
Professional Associations & Designations
Licensed Real Estate Agent in Nebraska
International Council of Shopping Centers, Member
Strategic Clients
"We recently had the absolute pleasure of working with Maddie Graeve of NAI NP Dodge as we searched for the first of several NuSpine locations that will be opening in the Omaha market. She spent many months with us to understand our needs. As we are from out of state, she kept a close watch on the market and steered us to the right location for our first clinic, which had only been on the market a week. Maddie's in-depth market knowledge, guidance, communication style, are amazing! She also provided INCREDIBLY HELPFUL recommendations for other professional services such as attorneys, contractors, CPAs, etc. She was more than accommodating to the adjustments of our timeline when COVID-19 struck midway through our search. Despite the unknowns and challenges, she diligently searched until we found a location that would work best for our needs. We look forward to continuing to work with her as our preferred local broker for all of our commercial needs. Having worked with several brokers/agents in different markets – we feel confident saying Maddie has no equal in this space. Well done."
Dustin Sparks
Area Developer / Representative, NuSpine Chiropractic

Richard Rees, COO
Business Ventures Corp
"The Nebraska Humane Society needed to find a unique space under unusual circumstances and for a short period of time. Maddie Graeve diligently searched for a difficult-to-find space that fit our need and stayed within our budget, plus she did a great job negotiating the lease terms on our behalf. Maddie was highly organized and promptly answered all our questions. She was a delight to work with and very knowledgeable, professional, and patient with us throughout our search. She helped us find the perfect location! I highly recommend her to any organization needing help finding just the right space to rent."
Sara Schmidt
Vice President of Business Operations, Nebraska
Humane Society
Cathy Guinane
Director of Community Training
"Maddie Graeve and Trenton Magid represented me in the sale of a former Shopko store in Bellevue, Nebraska. Despite a glut of vacant big boxes in the local market, they sold the property within 10 months at $60 per square foot, well above comparable sales. They even found a temporary tenant, providing us with supplemental income!
On several occasions, Maddie went above and beyond the call of duty to help us with small management issues that could have become very expensive problems. I can not thank her enough for her willingness to step up and solve unforeseen management problems that arise when you are marketing a vacant and very large property.
I look forward to doing business with her again in the future and highly recommend her to anyone that may require the services of a top professional.
Rick Martin
Owner/Partner, Devmar Partners LLC
"I had the privilege of working Maddie Graeve and Gabrielle Estivo on a complex deal that involved 19 owners, who were tenants-in-common, ranging in age from 25 to 85, all of whom were located out of state. The property's sole tenant declared bankruptcy before the sale, which further complicated matters. Despite the challenges, Maddie and Gabby closed the deal within one month's time at a price well above market comparisons. If you're looking for hard-working brokers who go above and beyond the call the duty, call Maddie and Gabrielle."
Pat Mazhari
President, Aras Capital Company
"Maddie was recommended and introduced to us through a friend when we were looking for a realtor to help us find property for our business. She has been exceptional from the beginning, and we cannot say enough about how much we enjoy working with her. She is warm, smart, and an absolute hustler.
From our initial conversation, where she took extensive time listening carefully to what was important to us, to then providing multiple options from all over the market (including her extensive network of clients), and finally through the negotiation and closing process: Maddie made us feel like we were the most important client she has.
The property we ended up with was a part of another larger property. Maddie negotiated with the seller to not only get us the lot size we needed but also in seeing that the land was surveyed and re-platted. We could not be happier with the process or our new property.
If you are looking for a realtor that you can trust, and who listens, is responsive, and will represent your unique interests- look no further than Maddie Graeve."
Revonna White
The Beanery