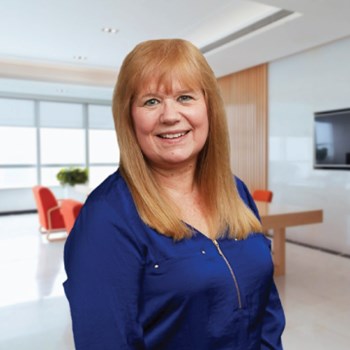 M. Carol Mox
Executive Assistant
NAI KLNB
6011 University Blvd. Suite 350
Columbia, Maryland 21043
United States
T +1 443 574 1405
cmox@klnb.com
Scope of Service Experience
M. Carol Mox is an assistant broker for NAI KLNB's Tech Properties Group. She specializes in providing tenant/ buyer/property representation services to high technology firms in the Baltimore-Washington Corridor and surrounding areas.
Background & Experience
Carol joined NAI KLNB in September of 1999. Her responsibilities with NAI KLNB include managing and tracking client accounts for the Tech Properties Group team members, researching property information for surveys and presentations, tracking market activity for exclusive property listings, managing client relations with cooperating brokerage firms within and outside of NAI KLNB's affiliations, providing field function real estate services to Tech Properties Group clients, and coordinating with NAI KLNB's administrative staff for production services. She has nineteen years of experience in the real estate industry. Prior to joining NAI KLNB, she was a corporate administrative services manager for Casey & Associates/ONCOR International where she was responsible for handling the daily work of the chairman/CEO, president/COO, and senior vice president, as well as managing in-house real estate administration. Prior to working in the real estate industry, she taught sixth grade for two years.
Education
Carol holds a Bachelor of Arts degree from the University of Maryland Baltimore County.
Professional Associations & Designations
Member of the High Technology Council of Maryland. NAI CREST Candidate Member SIOR Candidate Member
Transaction History
She has assisted in representing the following clients: CIENA Corporation, Corvis Corporation, MBI Fermentas, Diamond USA, NEC Business Network Solutions, Little Optics, and Vashaw Scientific.