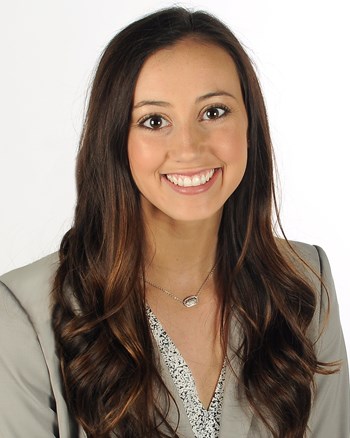 Background & Experience
Gabrielle joined NAI NP Dodge in 2019 and provides a full range of commercial sales and leasing services. She has experience working with small businesses and large multifaceted clients alike, providing exceptional negotiation strategies for every deal. Prior to joining NAI NP Dodge, Gabrielle worked as a Property Management intern at Union Pacific Railroad. She then interned at NAI NP Dodge before becoming an agent. She brings her knowledge of real estate property management to every transaction. It is Gabrielle's mission to be an advocate for her clients and work diligently to provide outstanding commercial real estate services.
Education
B.S. | Business Administration | University of Nebraska Omaha
Finance, Banking, Real Estate & Land Use Economics | Major
Management | Minor
Professional Associations & Designations
Licensed Real Estate Agent in Nebraska
Commercial Real Estate Women (CREW) Member - Community Outreach Committee Member
Chi Omega Sorority Alumnae Board Member
Rho Epsilon Real Estate Fraternity Member
Make – A Wish – Nebraska Volunteer
Special Olympics Volunteer
Strategic Clients
"Gabby is honest and very detail-oriented which was an important quality to me. She was always quick to get back to me and answered every question I had. Her patience is another thing that makes working with her a great experience. Having worked with other realty agencies before, I can tell the difference in the quality of work that Gabby does. Gabby and Jorge were working with me on a property that required a lot of research and discussion between ownership and me. I was impressed with the patience and care they demonstrated in their work with this project. Gabby answered my phone calls right away and guided me through all the terms and conditions. When the first project did not work out, Gabby and Jorge carefully found a different option for me that met my requirements. I am very pleased with the responsibility and great attitude with which they handled this task. Finally, Jorge and Gabby found the property that fit our needs perfectly. Gabby held my hand through the entire process all the way to the finish line."
Shoira Khamidova
RBC Motors
"I had the privilege of working Maddie Graeve and Gabrielle Estivo on a complex deal that involved 19 owners, who were tenants-in-common, ranging in age from 25 to 85, all of whom were located out of state. The property's sole tenant declared bankruptcy before the sale, which further complicated matters. Despite the challenges, Maddie and Gabby closed the deal within one month's time at a price well above market comparisons. If you're looking for hard-working brokers who go above and beyond the call the duty, call Maddie and Gabrielle."
Pat Mazhari
President, Aras Capital Company
"Gabby was truly a delight to be with during the office search. Always professional as she listened to the needs and concerns, communicated often, and interacted with the leasing agent. She found the perfect space! Gabby negotiated the contract, was personally present from the initial contact until the final signing. Gabby was always prompt, caring, and efficient. Gabby is a lovely representative of her employer. I will not hesitate to refer her in the future."
Carol C. Craven PC LMHP
"Gabby was an amazing help while trying to navigate finding a lease for our organization. She was understanding and a great advocate when COVID caused us to make some adjustments to our schedule and office space. Gabby was quick to respond to any emails or calls with questions we had, and also had a great eye for detail, especially when looking over our lease and bringing up terms that she thought would really be in our best interest. We look forward to working with her again in the future for our needs in Omaha!"
Dori Taxy, Progressive Turnout Project
"It's a stressful endeavor for a small business owner like me to relocate. Gabrielle was a great intermediary in the negotiations and a wealth of knowledge on the leasing process as a whole. Thanks so much for walking me through and helping to make this happen!"
John Jensen, JJ Guitar Repair