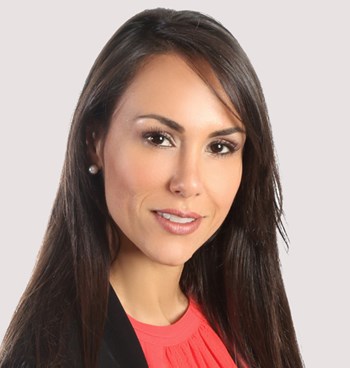 Specialties
Office/Medical, Investment Sales
Scope of Service Experience
Ms. Bazo specializes in the sales and leasing of commercial properties throughout Palm Beach County as well as nationally representing Investors, Landlords and Tenants. As an Argus trained professional, Ms. Bazo is knowledgeable in financial modeling for acquisitions and the disposition of assets.
Background & Experience
After an extensive residential real estate investment career which focused on both domestic and international markets, Ms. Bazo turned her sights onto a commercial real estate investments career and joined NAI/Merin Hunter Codman in 2018. Since then, Ms. Bazo has helped many medical practices in their regional and national expansion and/or relocation needs, as well as helping developers procure land and redevelopment projects. Ms. Bazo works diligently with her investor clients using financial modeling to achieve required returns for investment objectives throughout all assets including retail, multifamily, or office/medical.
Since 2006, Ms. Bazo has owned and worked for such firms as United Realty Group in Wellington, and Speedlight Investments, Bazo Investments, New Heights Realty and ASI Family Office in Miami, as well as Polexa in Caracas, Venezuela. Ms. Bazo is fluent in English, Spanish and Italian. Her international exposure and knowledge make her an asset to any foreign or national investors.
Education
Ms. Bazo is currently a candidate for a Masters Degree in Real Estate with a concentration in Finance from Georgetown University, Washington DC, where she also received Argus training. She holds a Bachelor of Arts Degree in Business Administration and International Affairs from John Cabot University in Rome, Italy and a Bachelor of Arts Degree in Business Administration from the University of Wales, United Kingdom, graduating with Honors in all studies.
Professional Associations & Designations
•Florida Real Estate Salesperson License
•Wellington Chamber of Commerce Member
•Women of Wellington Member
•Children International Sponsor (since 1999)
•UNICEFF Sponsor
Transaction History
Leases:
The Hirsch Center -

1

0,000 SF

Jupiter Wellness - 6,908 SF

Tremblant Capital - 4,305 SF

Longevity Health Founders - 3,290 SF
J Virgil - 1,065 SF
Scientific Environmental Instruments Inc - 1,800 SF

JFK Medical Centre: 160 JFK Drive - 1,771 SF
Sales:
Pine Island Surgery Center $7,500,000
23 Eganfuskee $2,750,000
15300 S Jog Road, Unit 101/102 $1,229,000
3319 South State Road 7 $760,000
3540 Forest Hill Blvd Condo $280,000

3540 Forest Hill Blvd Condo, Unit 112 $376,000

3540 Forest Hill Blvd Condo, Unit 205 $350,000

3540 Forest Hill Blvd Condo, Unit 105 $280,000
Strategic Clients
Esperante Corporate Center - 255,984 SF
Reynolds Plaza: 1061 E Indiantown Road - 58,070 SF
201 N Pine Island Surgery Center - 15,052 SF
101 Puglieses Way - 10,261 SF
23 Eganfuskee Street - 8,115 SF
15300 S Jog Road Medical Condo - 3,304 SF
2501 S Seacrest Blvd - 3,000 SF
Poinciana Professional Condo
Suite 105 - 2,476 SF
Suite 112 - 2,476 SF
Suite 205 - 2,476 SF